Share your experience with Sound Support!
We want to hear from you
If you've participated in one of the Trust's Sound Support programs in the past, we'd love to hear about your experience. Whether you quit tobacco, worked with a health coach, had help managing a chronic condition, or found support in any one of the many other programs the Trust offers, your story could help motivate and inspire other Trust participants.
This opportunity is available for both PPO and Kaiser Plan participants.
If you have participated in any of the following programs recently, we want to hear from you!
PPO Plan Participants:
Guardian Nurses
Wondr Health
Quit Tobacco Coaching
Health Coaching
LiveWell Fit
Condition Management
Kaiser Plan Participants:
Quit for Life
Wondr Health
LiveWell Fit
Fill out an interest form today and you may be selected to join our community of Success Story Participants!
The Process
After you fill out an interest form, you will be added to a list of potential participants eligible for an interview. If you are selected, you can expect the following:
An interview. One of our representatives will reach out and coordinate an interview time that works with your schedule. During the interview, we will ask you questions about your experience with the Sound Support program you participated in.
A photo shoot. After your interview, you will also have the choice to meet with a professional photographer and have photos taken. These photos will accompany your Success Story feature. After the shoot, you will receive three photos for you to keep! Feel free to print them for yourself, or share them on social media.
Recognition in Sound Health & Wellness Trust Materials. With your permission, we will include your story in Trust communications, including our website, where your story will be added to our growing list of Success Stories available.
Meet Kim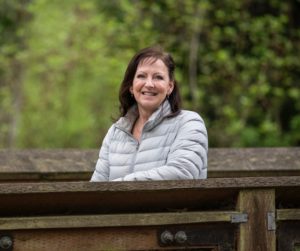 After a tragic loss and a series of stressful events, Kim Adams made the decision to reduce her stress levels and maintain a healthier lifestyle. Through the Sound Support Health Coaching program, Kim had access to a coach who could set goals and help her stay motivated on her journey. Now, Kim uses exercise as a method of improving her health, and walks regularly.
Like Kim, you can share your story and inspire those around you to find the support they need to take charge of their health.
Sound Support Programs
The Sound Support programs work to provide direct access to the medical expertise and information that you need. These programs are fully paid for by the Trust and are available to you and eligible dependents as either a PPO or Kaiser Plan participant.
To learn more about Sound Support Programs, visit our webpage.