The COVID-19 Vaccine: As Essential As You Are
COVID-19 vaccination is an important tool to help us all get back to normal. Studies show that COVID-19 vaccines are effective at preventing you from getting COVID-19, and if you do get it, they help keep you from getting seriously ill. We've gathered these resources for you on how the vaccine works, and why it is so important for essential workers like you to get vaccinated when you are eligible.
Centers for Disease Control and Prevention: The COVID-19 Vaccine
How the COVID-19 Vaccine Works
COVID-19 Vaccine: Just One of the Tools
When and Where You Can Get Vaccinated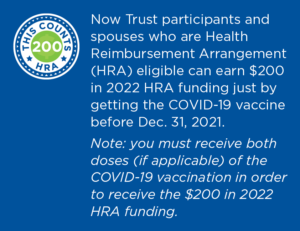 Three COVID-19 vaccines have been proven safe and effective by the FDA for people who are 16 and older, and the Pfizer vaccine has been approved for children 12-15 years of age. With the increase in production and locations, it is getting easier to make an appointment to get vaccinated. If you haven't done it yet, now is a great time.
Remember, the Moderna and Pfizer COVID-19 vaccines requires two doses to be effective, and you must get both doses in 2021 to quality for 2022 HRA funding.
Vaccine Town Hall Meeting
UFCW Local 21,in partnership with the International Foundation of Employee Benefit Plans, held a Covid-19 vaccine town hall meeting on April 22 and you can watch the whole program here.  Speakers included Dr. Peter Orris; Dr. Ashley Sherrill; Betty Long R.N., M.H.A.; Andy Votendahl, R.N., B.S.N; Ellen McDonald, R.N., B.S.N; and Tessie Duckworth, R.N.

PPO Plan Participants
You can get the vaccine from a Trust Custom Network Pharmacy, or your local grocery story pharmacy where you work (where available). You can also find vaccination locations by county on the WA Department of Health website.
If you cannot find a location near you on the list, contact your health care provider for guidance. If you do not have access to the internet, or need assistance, dial 1-800-525-0127, then press #. If you call, be patient. Due to a high volume of calls, people are experiencing long wait times.

Kaiser Plan Participants
Go to kp.org/wa/e-visit and complete an e-visit. You will be directed to a website to make an appointment to receive your first and second dose of the vaccine. If you do not have computer access, call 1-800-352-3610 for assistance. You can also get the vaccine at your local grocery store pharmacy where you work (where available).
Note: Vaccines will be given at selected Kaiser Permanente sites.
As you wait for the vaccine
Not everyone in our community is vaccinated yet (including children under 12), so be sure to continue to wear a mask, wash your hands frequently, and practice social distancing when appropriate.