The COVID-19 Vaccine: As Essential As You Are
COVID-19 vaccination is an important tool to help us all get back to normal. Studies show that COVID-19 vaccines are effective at preventing you from getting COVID-19, and if you do get it, they help keep you from getting seriously ill. We've gathered these resources for you on how the vaccine works, and why it is so important for essential workers like you to get vaccinated when you are eligible.
Centers for Disease Control and Prevention: The COVID-19 Vaccine
How the COVID-19 Vaccine Works
COVID-19 Vaccine: Just One of the Tools
When and Where You Can Get Vaccinated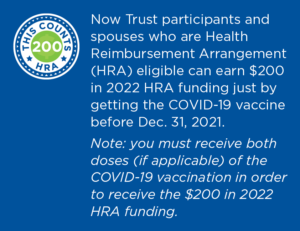 Two COVID-19 vaccines have been proven safe and effective by the FDA and are now in distribution across the state — and a third from Johnson & Johnson was approved, and arriving this month. Because the vaccines are still in short supply, the Washington State Department of Health has created a phased approach, with people who are at the highest risk of serious health complications being offered the vaccine first. Eventually there will be enough vaccine for everyone who wants it, but right now both vaccine supply and appointments are limited. This will improve as providers receive more doses and high-volume vaccine sites open. Remember, the Moderna and Pfizer COVID-19 vaccines requires two doses to be effective, and you must get both doses in 2021 to quality for 2022 HRA funding.
When to Get It
We are now in Phase 1B, Tiers 3 and 4 of vaccine distribution.  This includes workers in agriculture, food processing, grocery stores, public transit, firefighters and law enforcement, among others. The Governor announced on March 31, 2021 that everyone 16 and older will be eligible for the vaccine on April 15, 2021.
Where to get it
Whether you are a PPO Plan participant or a Kaiser Permanente Plan participant, the first thing you will want to do is complete the State's PhaseFinder tool at PhaseFinderWa.org. When you are eligible, you will be able to print a copy of the confirmation page to share with your vaccine provider as proof of eligibility. Both PPO and Kaiser Plan Participants will be able to get the vaccine at your local grocery store pharmacy where you work (where available).

PPO Plan Participants
Once you are eligible, you can get the vaccine from a Trust Custom Network Pharmacy, or your local grocery story pharmacy where you work (where available). You can also find vaccination locations by county on the WA Department of Health website.  Once you are eligible, go to CovidVaccineWA.org and click on Vaccine Locations.
If you cannot find a location near you on the list, contact your health care provider for guidance. If you do not have access to the internet, or need assistance, dial 1-800-525-0127, then press #. If you call, be patient. Due to a high volume of calls, people are experiencing long wait times.

Kaiser Plan Participants
Once you are eligible, go to kp.org/wa/e-visit and complete an e-visit. If the e-visit confirms your eligibility, you will be directed to a website to make an appointment to receive your first and second dose of the vaccine. If you do not have computer access, call 1-800-352-3610 for assistance. You can also get the vaccine at your local grocery store pharmacy where you work (where available).
Note: Vaccines will be given at selected Kaiser Permanente sites, and it could take several weeks to schedule an appointment until supplies improve.
As you wait for the vaccine
Be sure to continue to wear a mask, wash your hands frequently, and practice social distancing.